@/Arpro CA … Contracts module
Simple. Powerful. Secure.
A solution to complement the @/Arpro platform for easier organization of customer business relationships, that provides you activities and services, encoded warehouse articles and equipment rentals management.
This solution is used in the field of services or call centers or simply companies which have departments that carry out activities and work processes aimed at customers. 
Defines all of the commercial and administrative contexts with the customer, supply conditions, payment types, hourly costs, agents or brokers, currencies, etc., in addition to a number of fields available for statistics and searches. From this main area you can open and enter data into the context of other related areas.
Broken down by year (or period of choice), it organizes all activities to the customer through specific windows of data and the issuance of documents that can be printed on all labor relations. These data are linked to the warehouse items and company work centers, for the unloading of goods in real-time and to manage the task detection times of the personnel.
@/Arpro Erp – Job Orders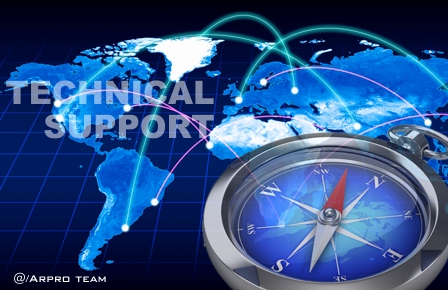 Broken down by year (or period of choice), it organizes all of your incoming calls with several details (e.g. references, priorities, notes, duration and costs, and so much more).
Shippers and transportation service providers have realized the benefits of using a program integrated to the business management software. A simple solution for managing the transport, with various details that keeps informed on the shipping aspects, monitor their supply chain and minimize transportation costs, improving the customer service.
A tool driven by immediate effects on the transfer of documents involved (labor relations), on suspended calls or on the services provided, that are linked to the general accounts of @/Arpro. It has various search filters and allows the processing in simulation mode without any permanent effects to evaluate the results first. An integrated tool that is very powerful and fast for invoice management.
@/Arpro provides all master databases for an integrated platform with available supplementary programs: @/Arpro CA, @/Arpro TA, @/Arpro Erp. This solution offers various areas of activity between them, perfectly integrated to support all of your accounting business needs.
Track project profitability