The Competition is Real between Peachtree, Quickbooks,
& @/Arpro
So, now we'll show you exactly why the competition is real. However, when you see that we can do the same plus more, you'll see that there is no competition at all.
Quickbooks® is usually considered the easiest accounting software to use for someone with no accounting background. On the other hand, Peachtree®  is known to excel in the inventory control.
Meanwhile, Quickbooks® works in the average costing, while the other one manages inventory by LIFO, FIFO, serialized and by average costing. Overall, Quickbooks® is more attractive and easier to use than Peachtree®. But, it's great for service-oriented businesses.
So, now we'll explain just why the competition is real.
For example, @/Arpro is a better alternative to both because, it works in the accounting one step higher. It has complete and easy inventory management by LIFO, FIFO, serialized and average costing. In addition, by the updated sales price list, so, you can manage your sales either by the discount or the reload method.
Therefore, this is a further valuable function that @/Arpro has! It's easy, just choose the option on the intake card of the single customer. So, now you can manage the various related sales documents, either by "Discount" or by the "Reload" method. The competition IS alive & real…
Only you decide which option gives you more sales & profit,
during this real competition
After that, you can also define the corresponding price list that you want to use. For example, there are list prices by type and or reserved for specific customers and these are unlimited. Above all, they have auto functions that recalculate and update the documents.
@/Arpro keeps a database for all of the sales, so you have all of the statistics with just 1 click. In this list, we'll post some examples of the various ways that you can search:
by customer,
by document number
date of creation
the type and amount of product 
or by the serialized codes
Further, you can keep track of these data during sales phases and even choose the same conditions of last price you used.
The Competition is real & doesn't stop here, so keep on reading on because, knowledge is power!
Our program has great features 
including, real time job costing and forecasting tools for the industry area.  
Add to that, that they are very easy to use and very complete too.
So, the typical user of the solution is the small or medium-sized company, where primarily a few things are essential. In short, ease of use and adaptability. Likewise, a complete functional basis. For instance, these are the unique characteristics of @/Arpro® all in 1.

Some Key differences, so you can know that the competition is really real
From now on, we will highlight the key differences of our solution versus the others.
Then, at the end of this document you'll see a table with some of the salient distinctions between all three of the competitors.
Meanwhile, we added a link for you that is from the Brain-sell website, so you can see their evaluation too.
Click the link below, so you'll see the details about technical and commercial differences between Peachtree® and Quickbooks® software.
We'll analyze and show you two other important aspects which distinguishes our solution from the other 2. 
The Industry Area and Contracts Management, for instance.
Most developers only work in their labs. However, our clients asked questions and we listened. In other words, we took the advice that came directly from demanding production and assembly companies. As a result, in 1993 @/Arpro Erp® production software was born!
Meanwhile, we've evolved and innovated our software. Because of this, it overcomes the most common issues with simplicity and versatility.

In this list, we'll highlight some of the features that our program has:
thorough planning of supplier and production orders, so you're always on top of the game.
minimum stock planning, so you never run out of what you need to make your product.
job orders and BOMs management, and they're connected to the man hours that are used to make them.
you can manage the production launches quickly and easily. Including, time detection for man hours and machines.
the real time picking lists of the raw materials, semi finished and finished products save you a lot of time.
you have 1 click analysis and statistics at your fingertips, which are great when you want to know where you're at!  And you can view them straight with us, auto populate into Excel

®

, or view them in Gantt

® 

diagrams
quality control is super important so you have returning customers. In short, our program has it for you.
During this time, quotes become auto invoices, as well as supplier orders. In this way, you will always have the right amount of the materials that you need to make your product.
This program works very well for
service and manufacturing companies
It works in real time with the warehouse even if the sales or purchase documents contain encoded items. Simultaneously, it creates the corresponding tax records for accounting purposes.
For each sales or purchase document it generates and maintains a payment schedule. More importantly, it auto recalculates any associated tax documents and payments with any changes in documents, and they're always permitted.
This section below, shows you how easy & simple it is
Another key difference of the simplicity of using this software is because of the management cards. In the same vein, they are within every form of the program. Here's an example, every home screen contains a list of all the records like,  customers, suppliers, articles, and documents. You can open the records that are connected and all of these forms are organized with the logic of simplicity.
For example, to search for a customer, just position the cursor on them. Then, double-click on the corresponding tab and it opens. Furthermore, this is very much appreciated by users because it makes the program very fast. In addition, you can drag all of the toolbars and use them outside of the card. So, you can add or change records without having to open the card itself. That is to say, that all methods are meant to reduce the number of operations. Because of this, you just click & double-click with the mouse device!
4 major levels make it so much easier for you
Relax and take a load off, because we have got you covered. However, don't forget that at the end of this document there is a table and you can judge for yourself. The competition is real …
We have simplified the whole management system by splitting them into 4 major levels. Furthermore, compared to other business management software, we sell @/Arpro® as a single main module. Above all, it consists of many more categories than other programs do. So, there is no need to choose extra modules that may be added later, and only if you need to.
This flow chart below, will give you a visual of what we mean
To sum it up, these four main structured solutions manage the company in the different areas of expertise. All the while, they're seamlessly integrated for a complete management system. In other words, this is a very simple and fully integrated system! Oh, the competition is real …
| | |
| --- | --- |
| Program | Description |
| @/Arpro | The all in 1 Business management software |
| @/Arpro TA | Treasury and industrial cost accounting management |
| @/Arpro CA | Customer contracts, activities and services management |
| @/Arpro ERP | Production management including, every process. |
Customer relations and contracts
This is a solution that compliments the @/Arpro base platform. For example, you will easily organize your customer relationships, that you provide activities and services to. It includes encoded warehouse items and you can manage equipment rentals too.
Needed in all service centers, call centers, & companies dedicated to rentals. To clarify, items can be rented out either short or long term. 
For example, in the construction industry they would rent basic equipment, scaffolding, building equipment & platforms, etc. 
So, any and all sectors that require specific or customized applications.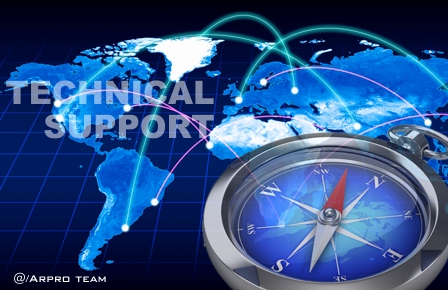 This list, shows what goals it primarily addresses:
firstly, customers contract management
such as, names, references and proxies, services, equipment, and more
secondly, activities and services management
thirdly, scheduling calls for customers, contract renewals and such. Including, alerts that can be set
moreover, complete document management (CRM) and integrated email
certainly, various statistics are just 1 click away
most importantly, it links to the accounting office, so billing mandates are auto generated
This is an open source program, so it integrates with third party applications. Through access of the Microsoft SQL Server® database, as an example.
So, an example of this is the ability to manage external e-commerce that is integrated to the warehouse and managing the @/Arpro customers. 
Our company provides the basic management while, providing a stable and reliable app for this integration.
Peachtree

®

vs Quickbooks

®

vs @/Arpro

®
This following table, shows some of the salient distinctions between the competitors covered in this document. This analysis was released by Brain Sell Technologies, LLC and we added our features to it. In this way, you will see the  technical and commercial differences between Peachtree®, Quickbooks® and our solution @/Arpro®.
 

Peachtree

®

Quickbooks

®

@/Arpro

®

Licensing costs
$105/User/Month
$55/User/Month Subscription Only
$39.50/User/Month
Please see (*)
Multi-currency capabilities
U.S. Currency Only
Multi-Currency
Multi-Currency
Multi-lingual capabilities
English Only
Multi-Lingual
English, Spanish and Italian
Ecommerce integration
Built-in/Native Ecommerce/POS Integration
Integration capabilities limited to Salsesforce app, No native integration
Integration capabilities
Primary deployment method
Primarily On-premise
Subscription/Cloud Only
Primarily On-premise
Reporting capabilities
Built-in Reporting (Inventory/Pricing)
Inventory/Pricing Reporting Available with Add-ons
Built-in Reporting (Inventory/Pricing)
Typical company size
Small to Mid-market
Flexible with Add-on packages
Small to Mid-market
Last release date table November 2019
Down below, is some great news and a some of our features, so you can have more insight
(*) With all of the @/Arpro Solutions, there is no contract or commitment. When you have paid for the License(s) to use then, you acknowledge & agree that the Program is licensed, not sold. As a result,  you will retain access to your company data file stored on your device.
Like the other competitors of software, ours manages Multi-user Platforms, Accounts Receivable and Accounts Payable.On top of that, Automated Purchase Orders, Fixed Asset Management, General Ledger, Job Costing and Forecasting. In addition, Industry Specific Features, Serial Number Inventory Management, including barcodes and labels. We named some here but we have a lot more to add however, this page is long enough!

How to become a Dealer (Partner)?
All trademarks mentioned are subject to the law on copyright and private property of the manufacturing companies. Our analysis considers only the main aspects of the products and may change with the release of new versions of programs in the future.
Would you like to Bust Through the Barriers that other software programs & vendors put up?
Well, you can with @/Arpro Solutions!
Last update on April 2019.