@/Arpro CA … Contracts and Customers module 101
Simple. Powerful. Secure.
In other words, @/Arpro CA Contracts and Customers.
@/Arpro CA Contracts and Customers, is a solution that compliments the @/Arpro base platform. For example, you will easily organize your customer relationships, that you provide activities and services to. It includes, encoded warehouse items and equipment rentals management.
Use this solution for services or call centers. In addition, just simply companies which have departments that carry out activities and work processes aimed at customers. In short, @/Arpro CA Contracts and Customers is a gold mine in disguise!
@/Arpro® CA integrates with the general accounting. In this way, you can manage manual or auto invoicing. Meanwhile, it provides you with the info and "Alarms" on expiration dates and/or renewals.
With this program, you define all of the data for the customer. For instance, supply conditions, payment types, hourly costs, agents or brokers, and currencies, etc. In addition, there are a number of fields for various stats and searches. From this main area, you can open new windows and enter data into other related areas.
Furthermore, it organizes all activities for that customer through specific windows of data. Then, all of the documents can be viewed and printed on all labor relations. Better still, these data are linked to the warehouse and company work centers. As a result, the real time inventory and man hours auto update. Best of all, these data are broken down by year or by the period you choose.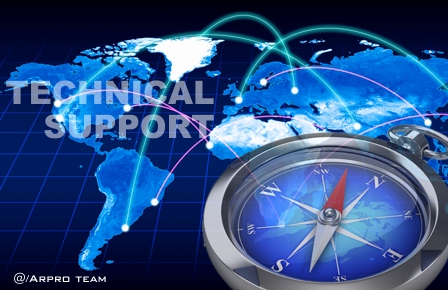 In this paragraph, we'll post some of the benefits of using it for a call center. Firstly, it's broken down by year or by the period that you choose. Secondly, it organizes all of your incoming calls with several important details. Like, references, priority flags and notes. Add to that, call duration and the incurred costs, and so much more).
Similarly, shippers and transportation service providers have realized the many benefits of using a program that is integrated to the business management software. Likewise, this is a simple solution for managing the transport data for you. To sum it up, it records the various details that keeps you informed on the shipping aspects. As a result, it monitors the supply chain and minimize transportation costs. Therefore, improving the over all customer service.
Above all, this is a tool driven by immediate effects when the related documents are transferred. As well as, the suspended calls or on the provided services. Moreover, all of these are linked to @/Arpro's general accounts. In addition, it has many search filter options, so finding who or what you need is quick. To top it off, you can use the simulation mode without any permanent effects, because you can check all of the results first. In short, use this integrated tool for fast and powerful invoice management.
In any case, @/Arpro® keeps all of the master databases for this integrated platform. For instance, you can add any of these supplementary programs as you need them. Such as, @/Arpro CA, @/Arpro TA®, and @/Arpro Erp®. To conclude, this solution has useful links between them that integrate perfectly. Thus, supporting all of your accounting and business needs all in 1 place!
Español
Brochure @/Arpro CA®
Presentación
Área comercial
Track project profitability